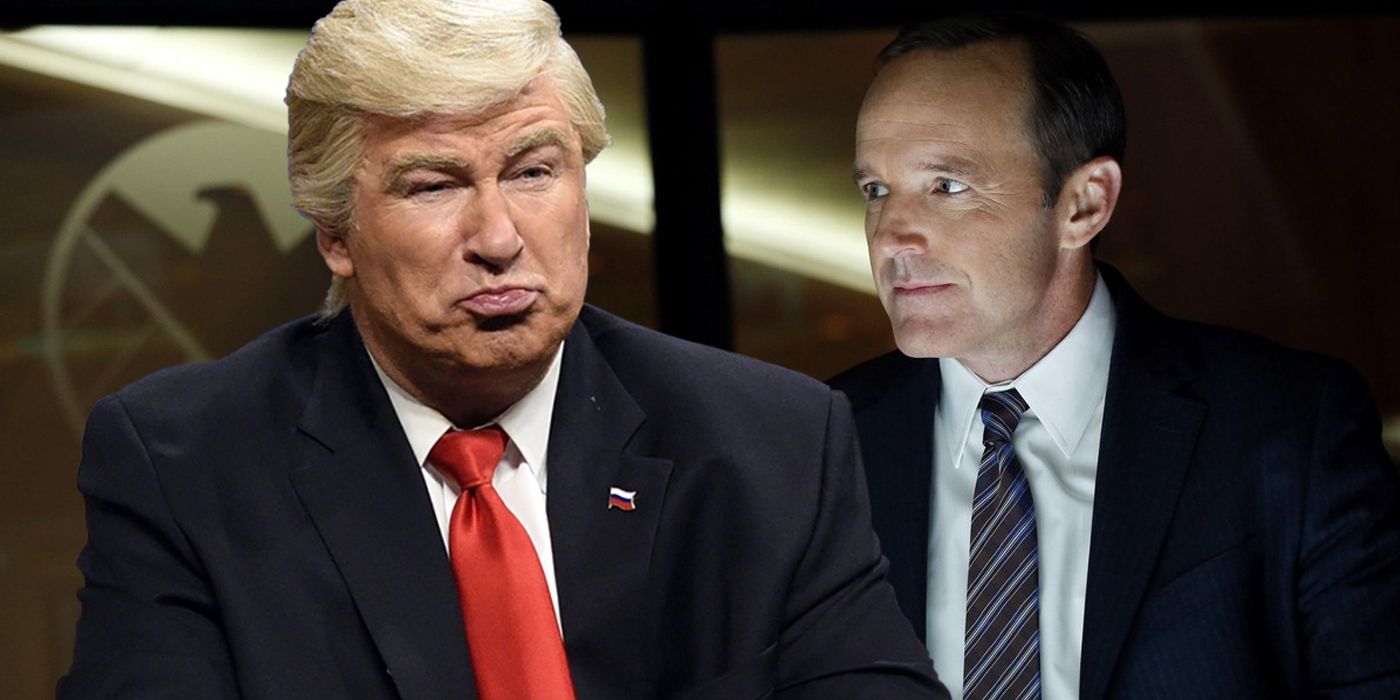 Agents of S.H.I.E.L.D. was referenced in a Saturday Night Live sketch featuring US President Donald Trump. Though none of the actual characters from the show – nor SNL actors portraying said characters – appear in the sketch, Alec Baldwin gives the show a shout-out, and the Marvel series' showrunner even shared the moment on social media.
Even before Trump was elected president, Baldwin had been frequently portraying him on SNL, and his appearances even earned Baldwin an Emmy for his performance. Agents of S.H.I.E.L.D., on the other hand, is nearing the premiere of its sixth season in May, so anticipation is certainly growing. Now, even though SNL and Agents of S.H.I.E.L.D. have little in common – and are even on different networks – the sketch comedy series gave a quick nod to the Marvel show.
Related: Saturday Night Live: 14 Famous Actors Who Auditioned… And Didn't Get Cast
During the cold open for the February 16 episode of SNL, Baldwin appeared as Trump once again. Mimicking the President during his real-life speech declaring a national emergency regarding the proposed border wall between the United States and Mexico, he mentioned Agents of S.H.I.E.L.D. In fact, Agents of S.H.I.E.L.D. showrunner Maurissa Tancharoen recorded the clip from the episode mentioning the show and posted it to a few of her social media accounts. Though the moment is brief, she and her family are noticeably enthusiastic about the reference. Check out the clip below:
As far as what's in store forAgents of S.H.I.E.L.D.'s sixth season, there have been a handful of tidbits released recently teasing some interesting developments. The sixth season will take place a year after season 5; it won't bother acknowledging Thanos' snap in Avengers: Infinity War, despite existing in the same universe; and even though Clark Gregg is returning to the show, he won't be back as the Agent Phil Coulson that fans might be expecting. As for the narrative journey of season 6, it'll center heavily around Simmons (Elizabeth Henstridge) on a desperate search for her husband Fitz (Iain De Caestecker).
Though the Agents of S.H.I.E.L.D. reference on SNL was basically the auditory equivalent of a blink-and-you'll-miss-it moment, it's always fun to see Marvel getting a shout-out. With 2019 being a massive year for Marvel – between the show's sixth season and the end of Phase 3 in the MCU – the saturation is perfectly welcome. Now, it's just a matter of time before SNL starts parodying other upcoming Marvel properties like Captain Marvel, Avengers: Endgame, and Spider-Man: Far From Home.
More: The Myers-Briggs® Types Of Agents Of S.H.I.E.L.D. Characters
Season 6 of Agents of S.H.I.E.L.D. premieres in May 2019 on ABC.
Source: Maurissa Tancharoen